In my
most recent post about essential oils
I shared what essential oils are and where I purchase them from. I only use one brand alone, Young Living. I decided to purchase their essential oils based on the awesome testimonies I heard about these oils.
If you have never used essential oils, it can be overwhelming trying to figure out where to start. I love Young Living for the simplicity of their guide to the use of essential oils. They have a Premium Starter Kit, which serves as a kickoff to embarking on that journey of using essential oils.
In this kit, there are oils called the "Everyday Oils", which we can be used daily on a regular basis for wellness.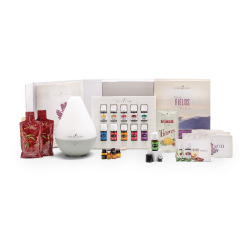 The most cost-effective way of trying out a wide variety of oils that are multipurpose is having this kit.This kit is an extraordinary value that offers a comprehensive introduction to the power of essential oils. The Premium Starter Kit is the perfect option for those who are serious about transforming their lives.The Premium Starter Kit comes with a total of 11 bottles of essential oil PLUS your choice of a diffuser and some samples! Your kit price is determined by the diffuser you choose. This kit also allows you to have a
wholesale membership
so you can save 24% on all future purchases. The kit retails at $300 but if you sign up as a wholesale member, you only pay at least $160 (depending on the diffuser you choose).
source
In Summary…

This kit, called the "Premium Starter Kit," starts at $160 (plus tax & shipping) when you select it during the membership signup process.
It comes with 11 different oils* (Frankincense, Copaiba, Lavender, Lemon, Peppermint, Stress Away, R.C., Purification, Thieves, PanAway, and DiGize), AND a diffuser!
This kit is fantastic for everyday uses

As a reminder, to order this kit, you have to enroll as a member . You will be asked for the member number of the person that informed you about the oils. My member number is 2302460. If you enroll, you will be added to my FACEBOOK page and several others where you can get a wealth of information on what essential oils are and how you can use them for wellness.
If you have any questions, feel free to leave them below. Also follow me on Instagram to see posts of what I use essential oils for. I am also on Periscope and scope once in a while about essential oils and natural hair. I definitely will be making more educational videos on Essential oils. I will try to not make them boring.

In my next post about essential oils, I will go over the different uses for each oil in the premium starter kit.