Hola Chicas,
Hope you had a great weekend. If you follow me on Instagram, you would have seen these pictures already. I decided to put my hair in Marley twists for the next one month. It's just time to do a long-term protective style. My hair has been out of those for six months now. Most likely, I will be doing variations of long-term protective styles throughout the summer to protect my hair from the scorching heat.
I can't still believe I did these. I am not sure if you remember from
this post, last year
, when I complained about not being able to add extensions to my hair and having no choice but to depend on professional braiders. If you have been following me then you would know that, I have gotten quite comfortable with adding extensions to my hair since
this post
. I only needed to find the energy to install looooong twists or braids.
Well I did. I was interested in the HavanaTwists at first because of the big parts but then I realized that Havana Twists
are just too heavy for my fine hair. I still was able to part my hair big and got a full look. I used Vienna Marly hair from Sally's Beauty Supply store.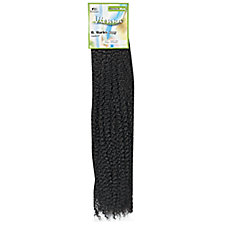 They are very light, soft and not bulky at all, so I ended up using six packs. The hair does not tangle and it is sooo easy to use. They do not unravel like the Marley hair sold at the regulat local beauty supply stores.
It took me 10 hours to complete my hair. They are very long, reaching my waist. I plan on keeping them for four weeks. Stay tuned for my regimen.